luke | 18
• any pronouns
• cancer
• infj
• chaotic neutral
1the9 jinsung, sungwon・
bts jungkook・
red velvet joy・
・nu'est minhyun
・soloist park jihoon
・and ot11 ⊹
if you came to me with a face I have not seen,
with a voice I have never heard I would still know you.
Even if centuries separated us, I would still feel you.
Somewhere between the sand and the stardust,
through every collapse and creation,
there's a pulse that echoes of you and I.



"다시 뒤집은 모래시계가 새로 시작할 때 그때도 우린 함께일 거야."
✰ hwang minhyun ✰
✰ park jihoon ✰
✰ park jihoon ✰

✰ hwang minhyun ✰

✰ jung jinsung ✰

영원히 워너원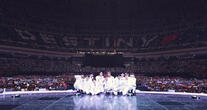 다시 뒤집은 모래시계가 새로 시작할 때 그때도 우린 함께일 거야

— sandglass, the heal —
✰